Who?
We are the Southern Connection Cloggers from Irmo, South Carolina.
We are under direction of Robin Elliott Jones and April Elwood. Both have been dancing for over 20 years. They are experienced in tap, ballet,and jazz as well as clogging. They are both members of the 1999 All-American Clogging Hall of Fame in Maggie Valley, North Carolina!


The Southern Connection Cloggers are made up of five teams ranging from ages 4 and up.
The five teams are: Dot-to-Dot, Magic, Electric, Charm and Energy. We recently have formed the "Magic" team and have added many new team members this summer and we welcome them. We are proud of all of our team members.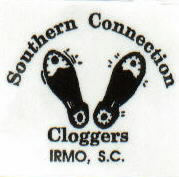 Where can you find us?
The Southern Connection Cloggers are a part of Footworks Dance Studio in the heart of Irmo, South Carolina. The studio is located on Woodrow Street in a shopping strip mall with Dominos and the Irmo Florist. They have been established since 1992. They perform and compete all over the state.

Local performances include: South Carolina State Fair, Palmetto Sportsman Classic, Carillon Christmas Parade, Cayce West Metro Light Parade, Oconee State Park, MayFest, Autumn Fest, Kids Day Columbia, Fun day at Pine Island for SCANNA,Children's Miracle Network, Irmo's Okra Strut, Pelion Peanut Festival, Back to School Bash, Cancer Day At Lexington Medical Center, Ft. Jackson for German Officers, the Women's Shelter and many more. We also have performed at Walt Disney World and Six Flags over Georgia.

Some of the competitions we attend are: The SCCC Stampede, Dieter's Beach Jam, The Southern Appalachian Mountains Clogging Competition, American's Clogging Hall of Fame Dance Off, The Southern National Clogging Competition, Showstoppers, Talent America and many more!

They have competed in places such as Tweetise Railroad; Augusta, GA; Anderson, SC; Dollwood & OpryLand, TN; Carowinds; Myrtle Beach, SC ( Alabama Theater & Showstoppers); Waynesville, NC; New York City, NY (Talent America winners).
Robin Elliott-Jones & April Elwood
Southern Connection Cloggers
P.O. Box 174
Irmo, South Carolina 29063
(803) 732-6525
Email:
relwood@sc.rr.com